The start of a new chapter…
Exactly four years ago today, we left for Dublin. Today we are moving back to Canada. How can I possibly summarize this chapter in my life? Quite an exciting chapter it has been. One of tremendous personal growth and experiences.
We did an incredible amount of traveling this past four years. A quick look at my pin-map of Europe shows we visited at least 13 countries while we were here. We visited London, Canterbury, Glasgow, Belfast, Paris, Lisbon, Barcelona, Amsterdam, Brussels, Prague, Berlin, Köln, Innsbruck, Rome, Malta, and Cyprus. And somehow in between all of that we managed to also squeeze in trips to Las Vegas, New York, and Hawaii, and several trips back to Canada. Wow. We need to buy some serious carbon offsets…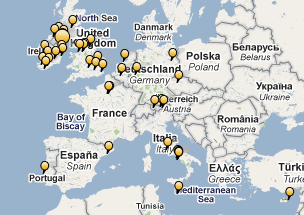 Speaking of which, Europe is sooo far ahead of North America in terms of sustainability. Small cars are normal, everyone uses public transit and there's a great network of high speed rail. I paid a carbon tax on my natural gas, and alternative energy projects are widespread across Europe. The EU is on target to meet it's Kyoto targets well in advance of the deadline. I feel ashamed at the current Canadian Government's efforts in these areas, and downright embarassed at times. Canada has seemingly done nothing but regress while I've been away. Or perhaps it's always been that way, and living over here has altered my perspective.
Career-wise, the past four years have been quite amazing.  The recruiter told me it was going to be like being strapped to a rocket. He wasn't kidding. This is one of those cases where the old adage rings true; That which does not kill you makes you stronger. In coming here I had to learn a huge complex system under extreme deadlines and serveral doublings of the peak load. It's never been a dull moment, and it's been a treat to have hands-on experience building a sophisticated real-time system that has to support hundreds of thousands of players. The previous software I worked on supported a peak load of less than 500 concurrent players. This one can now handle over 200,000. I arrived as a meek programmer and leave as a battle-weary, but confident architect.
As proud of those engineering accomplishments, I'm even prouder of my team. At times we've been a band-of-brothers sharing our foxhole while being shelled by server crashes, attacks from hackers, or the friendly fire shelling of insane deadlines. Much of the time, we've just been a merry bunch of good friends who laugh at each other's farts and toss around the frisbee on fair-weather days.  It's been a treat serving with a bunch of top-guns.
Which brings me to the next highlight of the past four years…. all the friends!  I've never had such a ridiculously full and busy social life. Part of it is the Irish culture. It is a very social place and centers around the (rather unhealthy) activity of going to the pub. As well, relocating here with a large group of co-workers was a major shared experience to bond around. In many situations, it's not normal to socialize with your co-workers that much outside of work. Everyone has their own social lives anyways. But since we were all freshly transplanted to Dublin at the same time, we were all cut off from our normal social spheres. Naturally we all gravitated towards hanging out and exploring together.
There's just never been a dull moment, with most evenings out for dinners or off to the pub with folks, or wild weekend parties, bbqs, concerts, trips to the west coast for surfing, or group ski trips in Austria, and so on…  Every spare moment has been saturated with social activity. As typical anti-social computer geek, this has been pretty amazing, and at times overwhelming.
I'm gonna miss the hell out of 'em all.
And what lies ahead, in this next chapter? Well, we're moving to the Canadian Rockies. Christine's going to be a ski instructor. I'm going to do some consulting, maybe tinker on some projects of my own, or maybe just ski the winter away and try a change of pace. Probably all three. The next chapter is still just a fuzzy idea, so  I guess it's time to start writing…