My Cat Needs a Passport
It turns out my cat needs one of these, and they are not easy to get: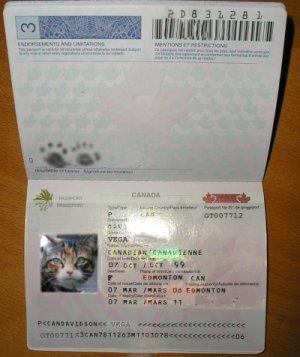 One thing that came as a huge shock to me was that moving a pet cat from Canada to Ireland is not a simple matter. I had assumed that moving pets around modern countries was a fairly common need and that there would be slick procedures in place to do so. Otherwise how would Paris Hilton jet around the world with her purse-puppy?
Ireland, being a small Island, is rabies-free and very paranoid about keeping it that way. When I looked into it, I was shocked that the easiest option by far is to:
Get cat vaccinated for rabies and wait several weeks for antibodies to show up in blood
Get a rabies blood test (had to draw blood and send it to a special lab in Kansas)
Wait SIX MONTHS quarantine for the cat to not die of rabies.
Get a European Union Pet Passport
Get some more shots 24 hours prior to leaving quarantine, and entering country.
So the end result is…. we have to leave dear little Vega in Canada for six months before she can be brought over to Ireland. Luckily we are able to leave her with Christine's sister who is moving into our house while we're gone. It will be hard spending all those months without her though. My precious little kitty. God, I'm such a softy. But LOOK HOW CUTE SHE IS, DAMN IT! I fear that won't be the end of the troubles though — finding a place to rent in Dublin that is pet-friendly will be no easy task. She's an expensive little fur-ball to keep around.