Las Vegas Part II: The World Computer Poker Championship
It's day two of the World Computer Poker Championships which Poker Academy is hosting (on the technical side). It's been busy running the event. Got up yesterday at 9am, and got to Binion's to set up and troubleshoot things at 10am. We didn't have the tournament underway until 2pm, and finished the day around 1:30am. Two of the six players were eliminated and the remaining four faced off this afternoon. A fourth was eliminated after three hours of play. At 6:30, the remaining three players play until another is eliminated. The two surviving players will be at the final event tomorrow evening to win the $100,000 prize. The four 'eliminated' players get to play a last chance tournament tomorrow and the winner also gets a seat at the final table.
There hasn't been too much media coverage yet, but I imagine when we get to the main table or Friday's man vs machine match, as well as the WSOP moving to play the final tables at Binion's Horseshoe, there will be a lot more interest and coverage. We have our tournament table displayed on a gorgeous widescreen plasma screen TV next to the poker room, and it's very cool to watch all the bots play with all the cards face up. You can really see how they play and when they make big mistakes or smart reads.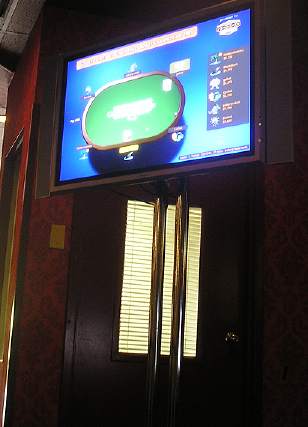 Anyhoo, I've barely had a moment to spare since my last post. The glitz and spectacle of Las Vegas wore off after the second day, and now I can't wait to get back to Edmonton, and maybe take some time off. Ahh, yes that would be sweet.