Las Vegas Part I: All Hustle, no Bustle
"All Hustle, no Bustle" is my new motto for Vegas. Wow is this place a spectacle. And an oven. It's been 105 degrees and it feels like you're sitting in an oven when you're outside.
We finished the WSOP trade show yesterday. It was a huge event in the enormous Rio Convention Center. All the major poker sites and companies had booths. Our stuff was very well received. It will probably take us several months to follow up on all the deals and relationships forged during the event. We were approached by numerous vendors and sales people looking to sell our software. We also got to give the product to several celebrities — mainly poker celebrities but we give a copy to James Woods who apparently thought it was great and may even endorse our software down the road. We also got it out to Johny Chan, Daniel Negraneau, Phil Laak, Thomas 'Thunder' Keller, Robert Varkonyi, and a bunch more I can't remember. The four days have already blurred into one foggy memory.
Phil Laak actually came by to seek us out — apparently he's a huge fan of our Poker Research Group and he knew me and the other group member by name as he'd read all of our academic papers on poker AI. He was very excited to meet me — it threw me off a little. I also met his girlfriend, Jennifer Tilley (the actress), who has a little poker fame now as well as she just won the 2005 WSOP Women's Tournament. I guess Phil Laak's been a pretty good tutor.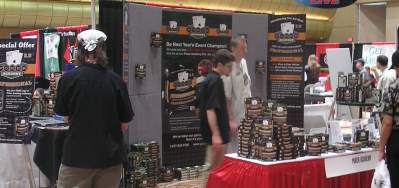 Working the booth was pretty exhausting. Each day we had to get there and work from 9:30 to 6pm. Once the doors opened at 10am, the showroom was instantly flooded with people and there was a constant flow of insterested people talking to us about our product. We had eight to nine of us working the booth most of the time, with four laptops set up to give walkthroughs to interested customers. Let me tell you, by 6pm we were all pretty exhausted from explaining the software over and over again, being on our feet the whole day, throats sore from constantly talking. At the same time, it was a lot of fun being there and meeting so many people. Some pre-existing customers stopped by the booth just to say how much they loved the software. The vast majority of people that stopped by had never heard of our software, which shows how much we have yet to penetrate the market that is out there. I think our presense there and all the relationships made into the heart of the industry will really build our brand awareness. A lot of people seemed thrilled that most of us demoing the product were the actual developers (and poker players) and not just trained sales-people.
Today I finally have the day off. The trade-show is finished and most of our crew are flying back to Edmonton as I write this. Scott and I are staying, along with our CEO and VP of Marketing, to run the WSOP-Robots competition next week. It starts on Tuesday and runs until Friday.
Kurt, our CEO played in the WSOP Main event ($10,000 buy-in, 5600 players, 1st prize of $7.5 million) yesterday. He lasted most of the day and then, unfortunately had his Ace-King busted by Ace-Five. No-Limit poker is a cruel game.
I'm going to spend the rest of the day relaxing by the pool and preparing our computer systems for the WSOPR contest.
Peace-out.