A full week gone by
Wow, it's been a full week in Dublin (our 9th day here actually). Naturally, we've been super-busy getting acquainted with our new surroundings. On Monday, I woke up early and walked to the LUAS (light rail) stop roughly a five minute walk through to the other side of St. Stephen's Greens. The LUAS runs south to Sandyford, where I then catch a company shuttle bus to the office. If I time it all right, it takes 45 minutes to get to the office. That's a 5 minute walk, 25 minute train ride, and then 15 minutes shuttle to the Cherrywood office park. A 45 minute commute is long for me. While I'd like to be closer to the office, that part of town is very dull — just housing and very little in local amenities or attractions. Since we'd like to try living here without a car, it doesn't look very practical to stay there.
Our current place in downtown Dublin is perfect as far as being a 5 to 10 minute walk to just about anything one would need, and it has a stellar night life. This is both a luxury and a headache. When you want to have a good time, it's right there. When you want to get a good night rest, it can be a little rowdy down on the streets below. Thursday in the restaurant below us was karaoke night until 2am. I hope that's not every thursday night!
The work week went by quickly. The office is big and well lit. There are a lot of new names and faces to get to know there. Tuesday night we had a Server Team dinner at a nice pub in Dalkey (that's the rich area of town near the coast where the celebs like Bono have their homes). Wednesday night we went out to a nearby pub (I think we could go to a different nearby pub every night for months without repeating). Friday night we had dinner at a fancy Italian place nearby, with Vanessa, a co-worker who is staying in the same apartment building as us. It cost twice as much as it would have in Canada. Afterwards we went to a pub for a drink and at one point a group of guys hushed everyone to near silence and a little man broke into song for a minute, and then it was back to normal again … that was a nice touch of local culture, something you'd never see at a pub in Canada (well perhaps out in the maritimes, but not out west).
Yesterday (Saturday) we slept in and in the early afternoon met up with two co-workers from our apartment (Vanessa & Kevin), and we wandered off to the nearest DART station (another urban rail line that runs along the coast). We stopped in Dun Laoghaire (Pronounced "Dun Leery", we discovered after some embarrassment). Christine and Vanessa registered there for some Dance lessons and then we found a pub for a late lunch. Vanessa went out for a smoke and brought back a local fellow who was extremely animated and fun to talk to. He was thrilled at our Canadian accents and kept referencing Degrassi Junior High and Trailer Park Boys. We ended up drinking and chatting with him until well after dark. He took us to a posh bar overlooking the marina, where we downed some enormous Hoegaardens. We then went back to our apartment and dressed up to go out clubbing. A group of us went to the club & pub scene just west of Grafton street (a 10 minute walk from our apartment), and we hopped around to several places. The whole area was just packed and hopping for block after block. Unbelievable. We met up with some more Tiltware people. One of them, a friendly local who works for the Database team, knew me from my blog! Hah, that gave me a good giggle.



Some random observations: Television is just as mind-numbingly ass-tastic here as in North America. Crossing the street is pure chaos. It's tricky enough with the lanes reversed, but here there is no respect for pedestrians from motorists, and vice versa. Jaywalking is the norm — the traffic lights are a mess, and so people just dart out between gaps in traffic willy-nilly. It's truly terrifying for us. Traffic is so orderly and efficient in Canada. We were entertaining the idea of getting a car before arriving, but after seeing the traffic, and the unnavigable roads, I think we are going to stick to the public transit systems. It is also much harder to walk in crowded streets here — in Canada people more politely yield to each other when walking in crowds. Here, I feel like I am playing chicken with every co-pedestrian, and losing badly.
I found an electronics shop and bought a life-saving piece of equipment for any geek plagued with a pile of electronic gadgets from north america that need charging: A 240V convertor: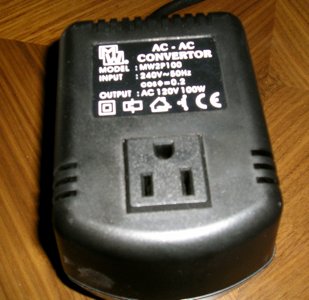 Currently Listening to: #2 from the album "Selected Ambient Works, Vol. II" by Aphex Twin