Xmasty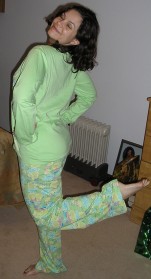 Is it xmasy in here or is it just me? Christine & I drove out to Drayton Valley today to kick off the holidays with her family. We went over to her aunt and uncle's for a fondu party, which was fairly CR friendly provided one could exercise portion control. I fondued some salmon and halibut in a ginger broth which was really good. Also a bit of chicken in some oil, a few strawberries and chocolate, and broccoli dipped in a cheese sauce. I've no idea how I did for calories, but I think I did ok, since I had nothing but a giant pear and a giant apple for breakfast and lunch.
We opened up a bottle of glenlivet Scotch that belonged to my Grandfather, who passed away earlier this year. We gave a toast to him and enjoyed it — this quality stuff was sure better than the cheap scotch I've tried previously.
As is tradition in Christine's family, we all got new Christmas eve pajamas, then sat in the livingroom for the reading of The Night Before Christmas, and then off to bed. I got these AWESOME pj's that are all spandexy and make me feel like I'm a super-hero: FROZEN FISH MAN!
Merry Xmas! (that holiday that capitalists co-opted from the christians, who co-opted it from the pagans, who probably co-opted it from somewhere else…)