Boston Wrap Up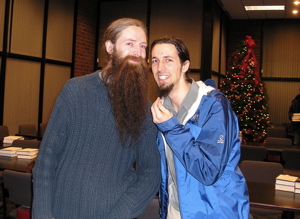 We're back in Edmonton now. Christine & I spent the morning shopping, mainly groceries and mega-muffin ingredients and xmas stuff. Then we made April's egg-white & salsa frittata for dinner, and while that was baking I whipped up a batch of muffin mix so that I was able to simply swap out the frittatas for the muffins. Then we snuggled up and watched DVD 4 of Season 1 of Battlestar Galactica which we are hopelessly addicted to.
I'm just getting to putting up some images from our trip. I've sprinkled some pictures from our trip in the older posts below. I also have some hand-held video of the dinner, mainly Aubrey & Ray's presentations, which I still have to slurp onto the computer. Unfortunately, Kurzweil's talk went longer than an hour, which is the length of my Hi8 tapes in my video camera, so I didn't get the last 10 minutes or so of his talk. I also had the brilliant move of brining my tripod and then forgetting it in the hotel so I didn't actually have it with me at the dinner when I actually needed it. But I'm sure it enjoyed the trip to Boston.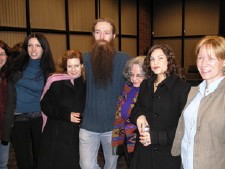 As you can see, my beard is coming along nicely, and I'm sure that given another month or so, It will put Aubrey's to shame. As you can also see, Aubrey has a way with the ladies. The dinner was great, the talks inspiring, and the people fantastically smart and engaging. My only complaint is that it was way to short! I didn't even get to talk to half the people there and could have shmoozed for hours. I'm not a very sociable guy so that's saying something. My idea of a good time usually means being alone or with one or two people.
As I mentioned earlier, Kurzweil gave us all signed copies of his last two books. Well, Christine & I couldn't wait and we both started reading the same book (Fantastic Voyage) on the flight back home. We couldn't stop giggling at how dorky we looked side-by-side reading the same book.
Muffins.