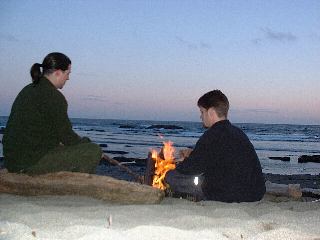 Click thumbnails for full size photos.
The West Coast Trail is situated on Vancouver Island, Canada, along a very rugged stretch of coast line (75km) that runs between the two port towns of Bamfield (at the North end) and Port Renfrew (at the South end). For more information visit Blisters and Bliss.
This was my first time hiking this trail, and Jason's second time (see a report of his first time on his website). We decided to take our time and relax a little rather than rushing the trail seeing nothing but our feet. Most people take six days to do the trail. A few crazy people manage to do it in four or five days. Rumor has it that some have done it in two or three days. We chose to do it in seven days (six nights), which turned out to be perfect. This gave us plenty of time to chill out at our camps, time to sleep in, and time to take in the beautiful scenery.
We flew from Edmonton to Victoria, and stayed the night at my Cousin's house. Early the next morning we caught the West Coast Trail Bus, and four hours later we arrived at the North end of the trail. It drizzled a little while we were on the drive. That would be the last rain we would see for the entire trip! We picked the sunniest week of the whole year to go hiking. Instead of the near-hypothermia damp and drenched trip we were expecting, we ended up sunburned and tanned.
Despite the hot weather, the actual trail was still quite muddy, as it had been raining steadily until the day we started. We passed a group of older women turning back after two days. They had discovered the trail was a little tougher than they could handle (and this was the easy North end of the trail -- the South end was murder by comparison). We also passed a day hiker who had hiked the trail a few times and he commented on our lack of gaiters. He told us in a few days we'd be willing to pay a hundred bucks for some. I said (and after doing the trip, still maintain) that gaiters are for sissies. Who's afraid of a little mud?
Jason & I were both trying out hiking poles for the very first time on this trip. What a difference they made! I'll never hike without one again. It changes everything. It makes you faster, gives superb balance, and dampens the shock and strain on the knees.
We decided to skip the first camp site at the 12km mark (Michigan Creek) and go the extra 2km to Darling River. This turned out to be an awesome decision. Everyone that started that day camped at the closer Michigan Creek site (which didn't look that great). Darling River, on the other hand, we had completely to ourselves and it was a beautiful spot. We camped just at the edge of the forest, and had a scenic sandy beach stretch out before us. We lit a nice big fire and sipped tea and hot chocolate until the stars came out. Living in Edmonton, the city lights really destroy the stars, so this was a big treat. The sky was busy with satellites that night. With the sound of the ocean next to me, I slept like a log.
Our second day was mostly along the beach, and was fairly easy. I was sad to find one of my three bags of beef jerky had grown mold all over it. Jay and I both got bad sunburns on the right side of our bodies, from walking in the hot sun, South along the beach. We camped at 23km, Klawana River.
The next day was a long seven hour hike. I woke up grumpy, but once I reached Tsusiat water fall, I cheered up. It was a scorching hot day. It seemed like it took forever to reach the Nitinat Ferry crossing. We took the ferry and met their dog, a black lab named "Rambo". We bought some beer and coke there and then took off down the trail. A ways from the crossing we noticed Rambo was following us. We assumed he'd eventually turn around and go back, but he just kept following us. We assumed that even if he wouldn't turn back voluntarily, we'd reach some ladders that he couldn't climb. It turns out Rambo can climb ladders. We passed some hikers going the other way who tried to take Rambo back, but he refused to go with them. Rambo followed us 6km from the ferry crossing, all the way to Dare Beach, where we camped.
As we were setting up camp, we saw a pod of grey whales migrating north. I grabbed my binoculars can caught several good sightings of spray, backs, and tails as they surfaced for air. Later we saw a bald eagle fly up into a nearby tree. At first we had the camp site all to ourselves, but then a huge group of students from Manitoba (I think) arrived and camped there. Rambo pissed on one of their packs. It was quite funny. Later, while Jason was down by the ocean trying to take a nice photo of the sunset, Rambo rushed by chasing a fast-moving Mink. Jason was lucky to get a great action shot of the event. Rambo slept quietly in the vestibule of the tent that night.
Day four was our easy recuperation day. Rambo continued to follow us 6km more to the Carmanah Point lighthouse. We dropped Rambo off there with the lighthouse keepers. It was a little sad. Hiking with Rambo had been fun. Shortly after passing the lighthouse we came into a nice bay where Monique's little make-shift restaurant was stationed. Our eight-dollar cheeseburgers were worth every penny. We started chatting with her and found her to be a fascinating lady with a lot to say. Her husband asked us to help him out with his boat. For our help, Monique gave us some beer (to supplement what we had already purchased!), which we packed out to our campsite at Bonilla Point (48km). Bonilla was an awesome little spot to camp with a nice waterfall. We put our beer in the creek to stay cold, and made camp. Then ate, built a nice big fire, grabbed our beer and got nice and buzzed while eating gummy bears. We found melting gummy bears on the fire extremely funny after a few beers...
The fifth day was a grueling hike through some of the toughest terrain on the trail. We hiked from Bonilla at 48km to Camper Creek at 62km (14km total). Although 14km does not sound too bad, it took us over eight hours to hike. There were lots of ladders and cable cars, and extremely muddy bog areas. We had to hike up and down hills and over huge fallen trees. Towards the end of the day, I was getting tired and sloppy, and I slipped into some knee deep mud. I flung out my pole to catch myself and bent it in half around a big tree root. That made me really glum, as I really missed my pole. It made hiking a lot tougher, especially with the rugged and muddy terrain.
On day six we decided to hike to Thrasher Cove for our last night. We took the beach for part of the morning and had to navigate over deep surge channels. We thought we saw a beach access point and tried to get back into the forest trail. Unfortunately we had over-shot and ended up wandering lost for half an hour in extremely dense woods and bush. It was an ordeal just to reach the beach again. We hurried back before the tide came in and found the real beach access. Towards the end of the day, we ran into our old pal Steve, who was on his first day starting in from the South end. Thrasher cove was a really nice spot and we had a great last night there. We had a nice big fire, which was nice since it got fairly cold that night.
Our last day was fairly short. We hiked through the last stretch which is a hell of a lot of ups and downs through dense forest again. It took under four hours though, and we soon arrived at the trail head and took the ferry across into Port Renfrew. It had been a great trip and was a lot more pleasant than my previous hikes.
The hiking pole made a great difference, as did my expensive SmartWool socks (well worth the price!) and my first pair of nice hiking boots. The weather was extraordinary. It's almost sad I packed a heavy tarp, rain gear, and plastic bagged everything. I trained a lot before leaving as well, and we did lots of stretching in the morning, at every rest-stop, and at night. Because of this, I felt quite good, physically, through the whole trek. We also overdid the food. I had plenty of snacks and a few meals left at the end. We were never hungry (a stark contrast to our Banff trip last summer!). I almost wish we had brought less food and starved a little since it makes the food even better when you're famished ;-)
All in all a fabulous trip that I would recommend to any hiker that has a few multi-day hikes under their belt. It was great for both the body and mind.